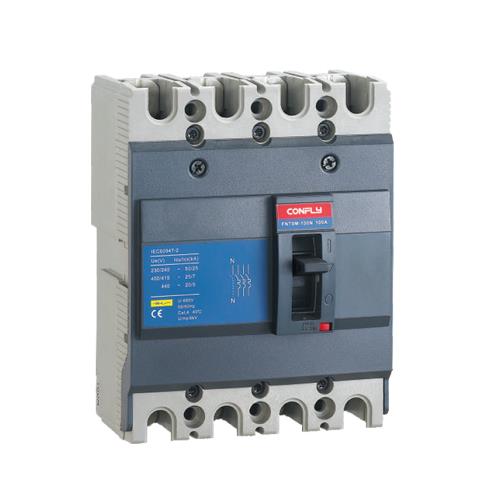 Add to Favorites
Share
IEC60947-2 Approved Moulded Case Circuit Breaker MCCB
Payment

Origin

China Mainland

Minimum Order

1

Packing

Pieces
Product Detail
?IEC60947-2 Approved Moulded Case Circuit Breaker MCCB




FNT9M series Moulded Case Circuit Breaker
FNT9M series Moulded Case Circuit Breaker is an ideal selection for the management
of global energy efficiency
FNT9M series Moulded Case Circuit Breaker(MCCB) will provide the integrated
solutions for the global energy and infrastructure, industry, datacenters and networks,
buildings and residential markets. ln the markets of energy and infrastructure, industrial
processes, building automation, and data centers and networks, etc. the circuit
breaker is a world leader. ln the residential applications, it also has strong market
power and committed to providing customers with safe, reliable, efficient energy.
FNT9M series Moulded Case Circuit Breaker will be the best circuit breaker in
secondary distribution systems
FNT9M series MCCB is the products which our CONFLY company specifically
tailored for the two distribution, particularly suitable for two power distribution, civil
construction market as well as mechanical and electrical market, to help you easily
build the most secure and reliable distribution Network.
FNT9M series products Simple selection
Full range of products, only three kinds of shell frame sizes, fewer standard size to
facilitate future expansion and upgrade.
Full scope of protection, including low-voltage distribution system protection, motor
protection and leakage protection.
FNT9M series products Easy installation
Installation methods include fixed and plug-in
Various accessories can be installed in the field
Swap down the line without derating, distribution box to avoid a "spider web".
Flexible installation location can be vertical, horizontal, side or back of the installation;
product' s performance unaffected
Provide a full range of installation and connection accessories to meet different
installation requirements.
FNT9M series products Easy to use
Switch status effective and reliable, and accurate position indication contacts, bring
you "visible security"
Protection class up to IP54.
Operating modes include toggle operation, direct rotary handle operation and extended
rotary handle operation.
Provide leakage alarm does not trip function to ensure safety and better safeguard
the continuity of power supply




FNT9M series Moulded Case Circuit Breakers are suitable for AC 50/60Hz, rated working
voltage 500V (400/630A for 440V), rated current from 15 to 630A of distribution network,
for the distribution of power and protection circuits, power supply and electrical equipment
from endangering overload and short circuit to improve the power supply reliability and
continuity.
Compliance with standards
International standards:
IEC 947-1: General (GB/T 14048.1);
IEC 947-2: Circuit Breaker (GB/T 14048.2);
IEC 947-4: Contactors and Motor Starters (GB/T 14048.4);
IEC 947-5.1: Control Devices and Switches; Automatic Control Element(GB/T 14048.5);
GB 14048.1 General;
GB 14048.2 Circuit Breaker
National Standards:
Hot and Humid Measure
FNT9M Circuit Breakers and auxiliary devices T2 hot and humid conditions, comply
with the following standards:
IEC 68-2-30 At 45 degrees Celsius,95% relative humidity (wet mat to heat and weather);
IEC 68-2-11 Salt Spray Test
Isolation
All FNT9M Circuit Breakers are suitable for isolation, comply with the standard IEC 947-2:
Contact isolated position in the "0" (OFF position);
Unless the contact is fully open, operate slot can not be "OFF" position;
contacts are open state license before they can install a padlock;
lnstallation of extended rotary handle does not change the reliability of the position
indication system.
lsolation has assurance testing Guarantee:
The reliability of mechanical contact is ensured by the position indication system;
No leakage current;
Overvoltage tolerance refers to the ability of withstanding voltage between its inlet
and outlet.
Installation of class ll switchboards
Circuit Breakers should be installed in all FNT9M class ll switchboards (according to
IEC 664 standard);
No special installation operation, because FNT9M circuit breaker provides class ll
panel and all insulation of internal circuits.
Cable entry
FNT9M online outlet into the next lower usage, no need to consider derating (except FNT9ML). This feature will provide greater convenience
to the switchboards installation
FNT9M Series Circuit Breaker Low Voltage Distribution Systems Protection
Functions and Features


Confly International has been specialized in manufacturing and marketing iec60947-2 approved moulded case circuit breaker mccb for over 15 years which is now known as one of the leading manufacturers and suppliers. Offering customized service, we warmly welcome you to wholesale quality equipment from our factory.
4
YRS
Yueqing Confly International Co.,Ltd
China
Favorites