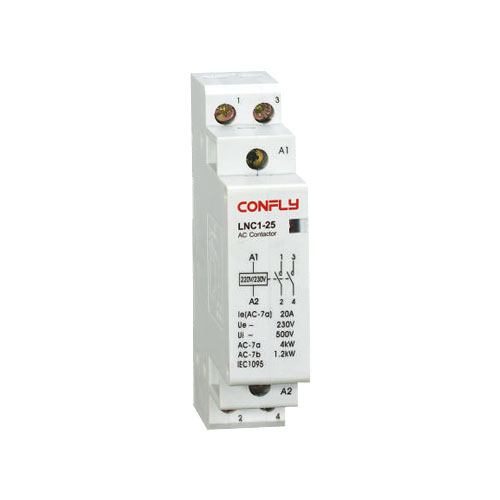 Add to Favorites
Share
LNC1 High Quality Modular Contactor AC Contactor CE Approval 25A/63A/100A
Payment

Origin

China Mainland

Minimum Order

1

Packing

Pieces
Product Detail
Lnc1 High Quality Modular Contactor AC Contactor Ce Approval 25A/63A/100A




LNC1 AC CONTACTOR
LNC1 modular contactor is applicable to alternative circuit with rated voltage up to 400V,
rated current up to 100A and rated frequency 50/60Hz. The product is used for remote
switching and controlling of power circuit.
? Compact and modular design
? Electro-magnetic mechanism free of noise
? Contact position indication
? Big contact capacity and long endurance




? Standard: IEC61095
? Power circuit
? Rated current: 25, 32, 40, 63, 100A
2P: 25A for 1module. 32A/40A/63A for 2module. 100A for 3module
4P: 25A for 2module. 32A/40A/63A for 3module. 100A for 6module
? Rated voltage:
2P: 230V AC
4P: 400V AC
? Rated frequency: 50/60Hz
? Remote control circuit (coil)
? Mechanical endurance: 100,000 cycles
? Electrical endurance: 30,000 cycles
? Ambient temperature: -5°C~+60°C
? Connection terminal: pillar terminal with clamp
? Installation:
On symmetrical din rail
Panel mounting

Confly International has been specialized in manufacturing and marketing lnc1 high quality modular contactor ac contactor ce approval 25a/63a/100a for over 15 years which is now known as one of the leading manufacturers and suppliers. Offering customized service, we warmly welcome you to wholesale quality equipment from our factory.
4
YRS
Yueqing Confly International Co.,Ltd
China
Favorites